More than just XER Reader, Meet ScheduleReader Pro
Check Schedule health and logic with a DCMA 14 Assessment Report.
Visualize linear projects on a single page with the Linear Scheduling View.
Create rich visual Graphical Reports and prepare for any presentation or meeting.
Who is using it?
Schedulers, Project Controls and other users who need to analyze KPI's, generate reports and share them with stakeholders.
Why consider it?
Create graphical reports with few simple clicks and share visually understandable and well and formatted data with teams and stakeholders.
Bring more informed decisions with ScheduleReader PRO
Dynamic Reports & Dashboards
Generate graphical reports, analyze schedule health and logic using the DCMA 14 schedule assessment report, presented as a one page dashboard and communicate project data through rich visuals.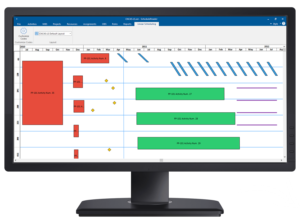 Linear Scheduling View
Get a complete overview of projects created with the linear scheduling method (linear planning) in schedules exported from Primavera® P6® through Time-Location / Time Chainage charts and diagrams.